How Boot Camp Exposed My Content Publishing Mistake You Might Be Making Too
New
,
Comments Off
This journey of hosting my courses and creating a membership site (phase II) has highlighted things that have bothered me about this site.
The biggest issue is it covers too much ground. You may have even heard me mention in podcasts that this is not really a niche site.
Well as I embark on this big project, I won't ignore it anymore.
As Kim George put it, "It's time to address the elephant in the room." And my reply was "That elephant has been sitting on my face for years now!"
That's some visual isn't it?

The Monster I Created
When I first launched this site in 2002, it only covered tips on creating a website.
My content was pretty focused. I had tutorials and info on software, (Anyone remember that gawwwd awful FrontPage?) CSS and HTML.
At the time, it was very common for people to build their sites this way. Obviously WordPress was not mainstream then.
Then I started doing well with affiliate marketing and fell in love with creating YouTube videos.
I began haphazardly creating tons of videos on anything from ebooks, AdSense, YouTube tips, affiliate marketing, to Canva, CSS, video intros, editing WordPress themes and more!
And I DO mean haphazardly! But that was primarily because I enjoy making videos so much.
Seriously, I could sit behind a camera and talk all day. (Hence those really long videos. Hey, my bad. LOL)
Well, all that lack of focus came with a price. Who cares if I have 80,000 YouTube subscribers if so many of them have many different needs and not engaged?
I'd much rather have 2,000 subscribers that are more targeted.
Also, my inbox is like a hodgepodge of messages on every topic you can imagine in this space.
I get questions ranging from link building, starting an ecommerce site, Joomla help, turnkey MLM website advice, advanced coding, and dozens of other topics that aren't really in my wheelhouse.
But who can blame them?
When you have a broader site about creating a website/blogging and cover so many topics on your blog and YouTube channel, that's bound to happen, right?
People aren't sure how I can really help them, and they often assume I am proficient in every area regarding websites when I'm not.
In addition to that, the Internet marketing landscape has changed a lot. I want to make sure that what I launch is relevant and…
Something I enjoy
Something I'm competent in
Something that's in demand
(Hint: It won't have anything to do with SEO, I can tell you that much!) I want to get as faaaaaaaaar away from that as possible.
I found myself going back and forth with the overall direction of this project.
I know I have the passion to teach and tons to share, but what do I really WANT to teach long-term in this ever evolving online space?
Helloooooooo Coach!
All this indecision led me to hire a coach. (Thanks Kim, for your inspiration!)
I'm currently in Messaging Boot Camp, and it is whipping me into mental shape!
I'm learning how important it is for everything I do to have a direct, clear message so people know who I am AND how I can help them.
Well, that's NOT what I've been doing here on this site or on YouTube. My content is all over the place and it's time for me to pick a lane, stay in that lane and make sure my messaging describes the lane I'm in!
He's teaching me how to use the right wording so I attract the right people and ONLY the right people.
It's Not Just About Having a Niche
I learned how important it is to have a niche audience when I launched Napturally Curly.
I'm really proud of that site. I never thought it would make much money. It was more of a hobby site spawned by my love of teaching, and it surpassed all expectations.
Even though it earns less money than this one, it's actually been more successful in terms of conversions because my audience is so laser focused.
It's a true niche site.
OK… so having a niche is one thing, but the second part of that is making sure my messaging (throughout all types of content) speaks to a very specific person.
That is what is missing from THIS site. So not only is it about picking a lane, but I'm learning how to write in a very different way.
Whew!!! What a journey this is. I'm being challenged in so many ways, but it's a good thing. If it were easy, my coach would not be doing his job, right?
Sometimes you need to get an outside perspective and hiring a coach was one of the best decisions I could have ever made… especially as I embark on something that is so new and involved.
By the way, I will be introducing you to my coach when coaching is done. My plan is to do a podcast with all the players involved. It's gonna be juicy!
I'm entering a new phase, and I want to make sure I do this right!
I told you in another post that my content is about to grow up. I meant it. I am going to have so much to share when this is all said and done.
So if this blog gets quiet and you don't hear from me, don't worry, I haven't gone anywhere.
I'm taking time to get my messaging and branding together.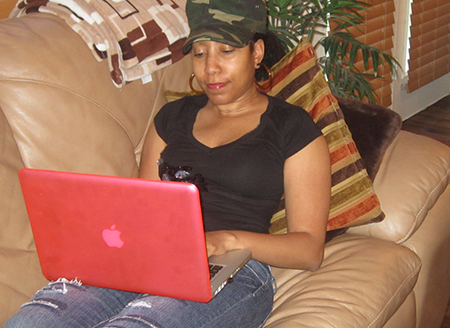 Finally!
This internet biz has been very good to me, and I feel blessed to have the luxury of taking my time with this.
OK, off to do my homework for the week.
Later!